Panorama of the city
The skyline of the city of Sydney is an incredibly beautiful sight that can be seen from different points of the city. One of the most popular places to see the skyline of Sydney is the Sydney Lookout, located 250 meters above sea level.
View of the Opera House and Harbor Bridge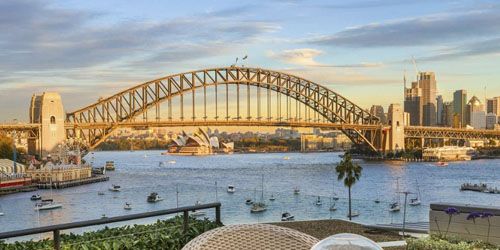 The Sydney Opera House is a unique sail-shaped building located on the shore of the harbour. In the evening, the building is illuminated with lights, creating an unforgettable sight. The Harbor Bridge is another symbol of Sydney. This is a majestic structure that spans the harbor and links the two parts of the city.
Ocean Beach, Manly beach
Manly Beach and Ocean Beach are two famous beaches located in the northern part of Sydney. Both beaches are famous for their beautiful nature and the opportunity to engage in various types of water sports.
Sydney on map
Sydney is one of the most iconic and beautiful cities in the world. Located on Australia's east coast, it's a city that is known for its stunning beaches, world-class cuisine, and lively culture. Whether you're a seasoned traveler or a first-time visitor, Sydney is sure to leave a lasting impression. One of the best ways to explore Sydney is by foot. The city is home to a range of scenic walking routes, which allow you to take in the sights and sounds of this vibrant metropolis at your own pace. One popular route is the coastal walk from Bondi to Coogee. This six-kilometer stretch of coastline offers stunning views of the Pacific Ocean, as well as some of the city's most picturesque beaches. Another great walking spot is the Sydney Harbour Bridge. The bridge offers spectacular views of the city skyline, and visitors can walk across the pedestrian pathway or even climb to the summit for an even more impressive view. In addition, the Royal Botanic Garden is a must-visit destination for nature lovers. This tranquil oasis offers a range of walking paths and features a diverse collection of plant species. For those looking for a more urban experience, there is the historic Rocks district. This area offers a glimpse into Sydney's colonial past, and visitors can wander through the cobblestone streets and alleyways, stopping at quaint cafes and shops along the way. No matter where you choose to walk in Sydney, you're sure to be enchanted by the city's unique blend of natural beauty and cosmopolitan culture. So lace up your walking shoes and get ready to discover all that this amazing city has to offer!